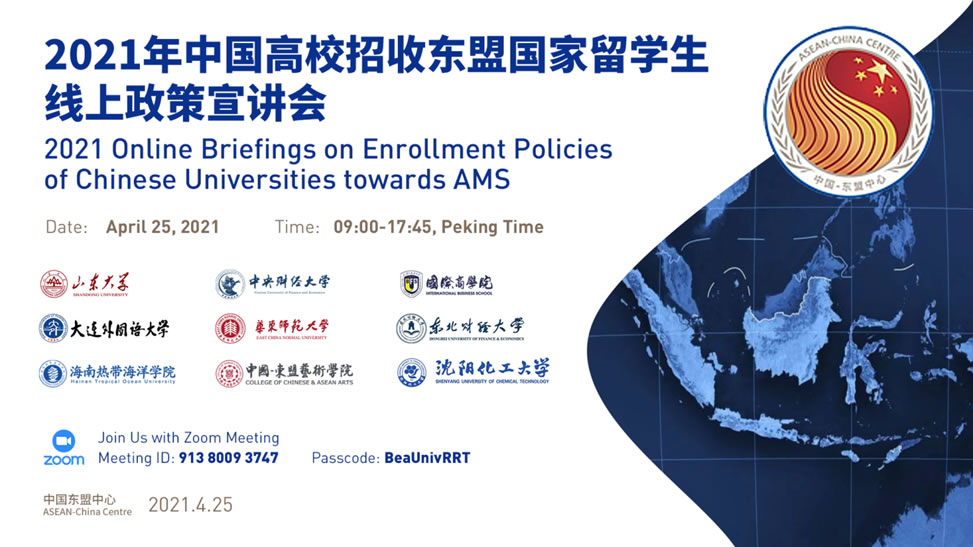 The "2021 Online Briefings on Enrollment Policies of Chinese Universities towards ASEAN Member States" will be held on 25 April 2021 (Sunday) from 9:00AM to 5:45PM (Philippine Standard Time, GMT+8) via Zoom platform.
The briefing is being arranged through the efforts of the ASEAN-China Centre (ACC) and nine (9) participating universities, in cooperation with the Embassies of ASEAN Member States in the People's Republic of China, with the goal of informing students from ASEAN Member States of educational opportunities in China as well as scholarship grants being offered to them by Chinese universities for various college and post-graduate degrees.
Interested Filipino students, their parents or guardians, and school administrators in the Philippines are invited to join the live discussion via Zoom using Meeting ID no. 913 8009 3747 with the corresponding pass-code of BeaUnivRRT. They may also watch the live broadcast on facebook.com/stsbeijing.
To learn more about the participating Chinese universities in advance, materials from the following links can be accessed:
Shandong University (Shandong Province)
Central University of Finance & Economics (Beijing)
Beijing Foreign Studies University (Beijing)
Dalian University of Foreign Languages (Liaoning Province)
East China Normal University (Shanghai)
Dongbei University of Finance and Economics (Liaoning Province)
Hainan Tropical Ocean University (Hainan Province)
College of Chinese & ASEAN Arts (Sichuan Province)
Shenyang University of Chemical Technology (Liaoning Province)