BY ALEX DADAMU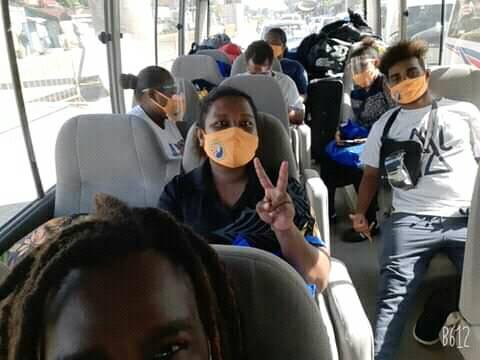 SEVEN (7) students studying at the Central Philippines University (CPU) are expected to arrive in Manila today Friday September 25 from Iloilo province in the Philippines to prepare for the scheduled repatriation flights home.
The CPU Director, Office of International Relations and Cooperation, Dr. Anna May Zerrudo in a smooth coordinated operation efforts together with Dr. Curtis Kalu, Director National Scholarship Division within the Ministry of Education (MEHRD), has allowed for the students to safely travel to Manila.
Mr. Mauro Somodio, Central Philippines University Alumni Association Inc (CPUAAI) Board of Trustees Member, Australia, has also confirmed to Sunday Isles paper that the students have prepared for their flight to Manila today September 25 and then to Solomon Islands on the 3rd repatriation flight which will be on October 27.
"Our CPU Solomon Islands students are leaving Iloilo Province for Manila on Friday. The students were advised to be at the gate by 7 am to be transported to the airport.
"We pray for their safe and sound travel on their way," Mr. Somodio said.
He further stated that with regards to their studies, the students will complete their courses online as they are currently on full online mode in the current 'first' semester.
Meanwhile, President of the Solomon Islands Students Studying in Philippines Association (SIPSA) Aurthur Mola also confirmed the proposed students arrival in Manila.
"Iam aware of the arrangement and I will be waiting for them when they arrive here at the airport in Manila.
"Immediately upon their arrival, they will proceed straight to the third Quarantine side (Hotel) prepared for them in Quezon city.
The Association President Mr. Mola revealed that prior to their trip to Manila, the 7 students have been tested negative for COVID-19. The test are part of COVID protocols to travel on domestic flights in the host country.
According to Mr. Mola, the students will undergo their first of the essential three (3) COVID test as required by the Solomon Islands Government on Sunday 11 October and if they are negative in all three (3) tests, they will then board the third and last repatriation flight which has already set for October 27.
Meanwhile, the government in an earlier statement has assured the nation it is working hard to get all the students home.
According to Prime Minister Manasseh Sogavare, the cost of the three repatriation flights to Philippines is approximately more than, 4.6 million dollars, which is unbudgeted for, however, thanks to Solomon Islands Ports Authority (SIPA), Solomon Power Limited, and Solomon Forestry Association (SFA) that has stepped in to help with the costs relating to the repatriation of the students to allow them to travel safely home.